So then, as we have opportunity, let us do good to everyone, and especially to those who are of the household of faith.
Galatians 6:10 (ESV)

At the recent Westminster Seminary California faculty conference, Mike Horton said –
"God doesn't need your good works, your neighbor does."
In the spirit of this truth, I'm asking you to help a neighbor some of you have never met.  Michael Spencer (aka "the Internet Monk") is a pastor and writer living in Kentucky.
While I've never met Michael personally, I call him friend. Our relationship began some time ago when I discovered his blog and then began to grow when he allowed me to do the re-design of his website.
Michael is an outstanding writer, devoting his blog to "dispatches from the post-evangelical wilderness" and writing eloquently on what he terms "the coming evangelical collapse."
First and foremost, his writing is about developing a "Jesus-shaped spirituality."
Michael and his family need our help. This past Thanksgiving, Michael suddenly became violently ill. On Christmas Eve, surgeons removed a small brain tumor.
Tests revealed that the source of the tumor was colon cancer. Michael has just completed a round of radiation therapy and is now facing a grueling regimen of chemotherapy.
Employed at a small Christian boarding school in Eastern Kentucky, his job was eliminated in late January. His employer-sponsored health insurance is due to expire this month.
His only hope of maintaining insurance coverage now rests upon the generosity and donations of his Christian family.
I encourage everyone to visit his website – the Internet Monk – and to make a donation of any amount. There is a PayPal donation button at the top of the page.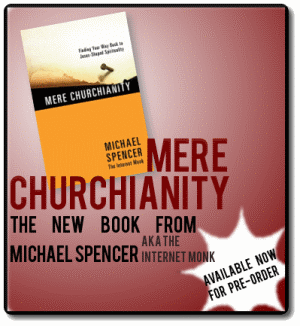 In addition, Michael's publisher has announced that his forth-coming book is now available for pre-order. Michael has requested that all pre-orders be made through Amazon.com.
Michael's blog is alive and well. During his absence, Mike Mercer is doing the heavy lifting by filling in with regular posts, updates on Michael's condition and re-publishing many of the Internet Monk's classic posts from the archives.
The Internet Monk has touched and influenced thousands of lives and his blog is among the most visited Christian blogs online.
This is an opportunity for all of us to show generosity to one of our own and to be faithful to scripture – "Bear one another's burdens, and so fulfill the law of Christ." – Gal 6:2
I would ask you to visit Michael's blog and to prayerfully consider making a donation or pre-ordering a copy of his book.